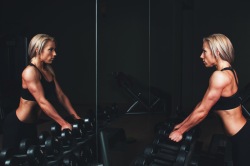 Do you know what the most important key for losing the weight for good is?
Calorie counting?
Starvation?
Deprivation?
4 hour workouts?
Nope. Not at all. None of the above will lead to healthy habits or sustained weight loss.
The most important key is to learn how to commit to yourself and put yourself first.
What does that mean?
To commit to yourself, you need to set attainable and realistic S.M.A.R.T. goals. Not only that, but you need to figure out your WHY.  Why do you want to lose the weight? Do you want to prevent disease or get your blood pressure, diabetes, or cholesterol under control? Do you want to be comfortable in your own skin? Do you want to play with your kids and/or grandchildren without being out of breath? Do you want to actually live your life instead of being unable to do much physical activity because you are out of shape or you just don't feel well?
Once you set your goals and determine your WHY, then you are on the road to success. However, until you are ready to change, no one can make you. You have to want this for YOURSELF.  Once you start making small changes and see results, you will become empowered and have more confidence in your abilities. You will become determined and motivated.
By the way, committing to yourself does NOT mean you need to be perfect! You will make mistakes. You are human. This is ok! Don't beat yourself up when you make a mistake.  Instead, learn from it and move on.
To put yourself first, you need to always be committing to your goals no matter what happens in your life. No matter how busy you get or what unexpected event occurs. Of course you won't be perfect, but your goals should be in the back of your mind at all times. Even one smarter decision a day can have a drastic positive impact on your health and wellbeing.
What are you waiting for?  Life is too short to continue holding yourself back any longer. Take a small step today to change your life.
I would love to guide and support you on your journey! Schedule your free Transformation Discovery consultation now!  You are capable of much more than you realize.  You can have the life you've always dreamed of and this can be accomplished by committing to yourself and taking small baby steps every day.
Disclaimer: This blog is not intended to diagnose, treat, prevent or cure any illness or disease.
The information provided in this blog is for general educational purposes, has not been reviewed nor approved by the FDA and is not intended to take the place of advice from your medical professional, licensed dietitian or nutritionist.
You are solely responsible for your health care and activity choices. Participation in this blog does not constitute a client-coach relationship.