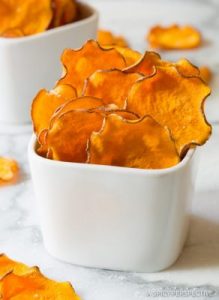 Cravings happen even to the healthiest of us. Often, when a craving hits in the afternoon or the evening after dinner, we get the urge to snack. Snacking can be a bad habit to get into because the snacks we choose are often junky, unhealthy, and high in calories, sugar, sodium, or fat. Snacking on these foods can sabotage all of our hard work!
The trick to snacking without piling on the pounds is to find healthy alternatives to the regular snacks you might normally reach for.
Usually, when we get a craving it is for either something sweet (chocolate!), savory and salty (potato chips!), creamy (ice cream!), or crunchy (chips!). Obviously, my examples are foods you shouldn't eat all the time if you want to be trim and healthy. But that doesn't mean you have to fight your cravings for the rest of your life. Instead, you just need to substitute with healthier options.
The next time you get a craving for something sweet, why not try:
fresh, whole fruit
apple with cinnamon and almond butter or peanut butter
green smoothies
green juice
banana "ice cream" (peel a banana, freeze (or use frozen bananas), blend in a food processor with nuts, berries, cacao powder, and a little non-dairy milk.) - Delicious!
dates stuffed with almond butter or other nut butter
organic dark chocolate chips or carob chips with peanut butter
For your savory and salty cravings, try these healthy alternatives:
olives
pickles and pickled vegetables, such as carrot, daikon, beets, and lotus root
whole grain crackers or veggies with hummus
steamed vegetables with coconut aminos
freshly made salsa or guacamole with baked tortilla chips or Beanfields unsalted tortilla chips
lightly salted edamame
Skinny Pop popcorn
Your creamy cravings can be met by eating:
smoothies
avocados (add to smoothie for a creamier smoothie)
rice pudding
dips and spreads, like hummus or tree nut cheese
puréed soups
puddings made with silken tofu, avocado, or mashed banana
mashed sweet potatoes
Finally, don't cave and reach for the Pringles, when you can eat these crunchy (but still healthy) snacks:
apples
frozen grapes
rice cakes
light popcorn or plain popcorn (use coconut oil to pop in a covered pan) or try Skinny Pop popcorn
carrots (particularly the sweet, organic baby carrots)
celery and nut butter
raw, unsalted nuts like cashews, almonds, and walnuts
sweet potato (or other veggies like zucchini, beet, etc) chips
Don't fight your cravings. Instead, listen to what your body wants specifically and choose the healthier option that will be good to your waistline.
What are you waiting for?  Life is too short to continue holding yourself back any longer. Take a small step today to change your life.
I would love to guide and support you on your journey! Schedule your free Transformation Discovery consultation now! You are capable of much more than you realize.  You can have the life you've always dreamed of and this can be accomplished by committing to yourself and taking small baby steps every day.
Disclaimer: This blog is not intended to diagnose, treat, prevent or cure any illness or disease.
The information provided in this blog is for general educational purposes, has not been reviewed nor approved by the FDA and is not intended to take the place of advice from your medical professional, licensed dietitian or nutritionist.
You are solely responsible for your health care and activity choices. Participation in this blog does not constitute a client-coach relationship.